Dr. Marc Cammarata's Farmington Hills Dentist
Farmington Hills dentist, Dr. Marc Cammarata DDS, is dedicated to your entire family's dental needs, spanning the generations from the most senior member to the newest arrival. If you are looking for a dentist in Farmington Hills Michigan we offer the latest technologies in preventative, restorative and cosmetic dentistry.
We offer our patients quality dental care that exceeds their expectations. We practice dentistry with a strong emphasis on the comfort level of each patient. Dr. Cammarata will explain all procedures before he begins, listens carefully to any and all concerns, and proceed cautiously. While closely monitoring the patient's comfort, he uses the most advanced materials and dentistry procedures to address a wide range of dental conditions.
One of the keys of our success is the excellent staff he has carefully assembled over the years. He personally screens all potential team members to make sure that everyone has the right focus on patient comfort and care.
Patients know that they can count on Dr. Cammarata and his entire team to provide a level of dentalcare that is unsurpassed in the Farmington Hills community. Our Farmington Hills MI clinic is located close to the intersection of 12 Mile Rd and Farmington Rd. We are just west of O.E. Dunkel Middle School.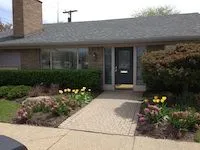 Marc S. Cammarata DDS
27900 New Market Rd
Farmington Hills , MI 48334
(248) 553-3773
Fax: (248) 553-2160
We use the latest technology and can perform many different types of dentist services. Most extensive procedures. We provide friendly and precise dental procedures such as:
Cosmetic Dentistry
Implants
Crown/Bridge
Extractions
Cosmetic Fillings
Dentures
And much more! Check out all of our Dental Services .
We are one of the best dentist offices in Farmington Hills, MI!
We are licensed, insured and highly experienced!
Our hours of operation:
Monday: 8:00 am - 6:00 pm
Tuesday: 8:00 am - 6:00 pm
Wednesday: 7:00 am - 6:00 pm
Thursday: Closed
Friday: 7:00 am - 3:00 pm